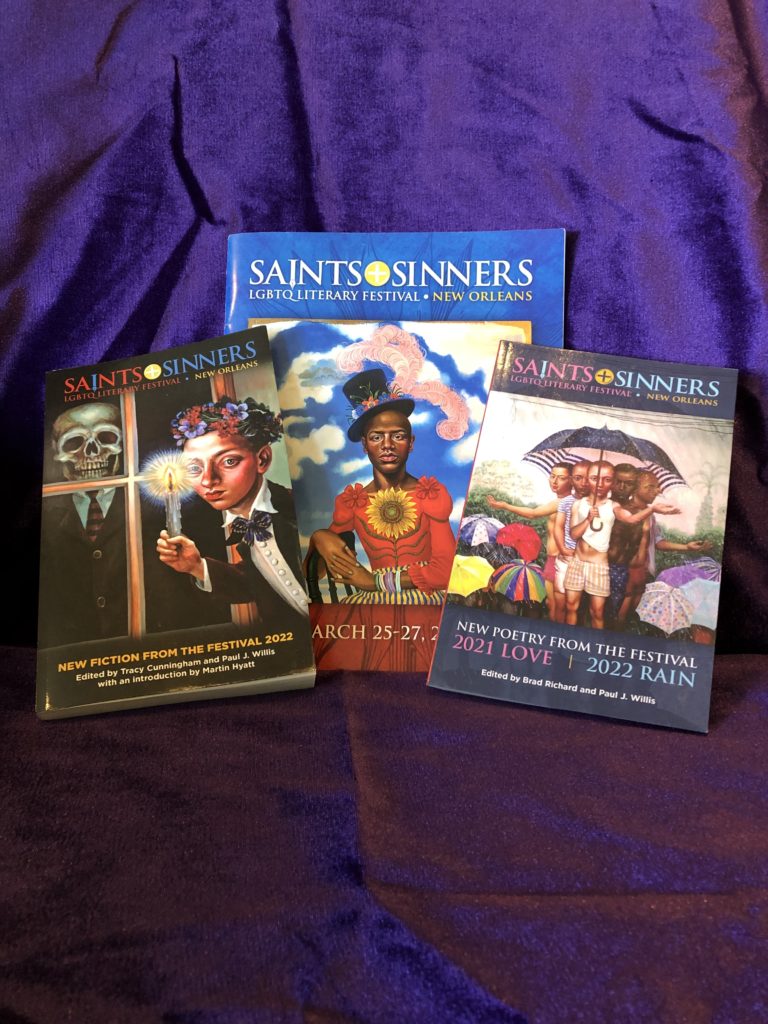 Once upon a time, I had plane tickets and lodging reservations for New Orleans to attend the 2020 Saints & Sinners LGBTQ Literary Festival. It was scheduled for March 27 – 29, ending on my birthday. And then, well, we all know what happened next.
SAS has held virtual events in light of the pandemic. But this year, the venerable queer lit fest met in person in New Orleans–and you better believe I attended.
We all needed it, the hugs (or fist bumps), laughs, music, food, and of course the words. Our words. Our stories. Saints & Sinners remains an energizing event, full of love and spirit, plus the intoxicating aura of the French Quarter. It was also neat to meet folks I've known online for years, but have never met in person, like Hans M. Hirschi, who flew in from Sweden, David Pratt, Jerry L. Wheeler, Sukie de la Croix, Ian Henzel, Robert Fieseler, and many more (please forgive any unintentional omissions).
I had the privilege of participating on two panels, one on short story writing and one on writing during plague times (AIDS, Covid, and illness as metaphor). On the short story panel, I shared the stage with writers Vincent Traughber Meis (East Bay Represent!), Eric Peterson, and moderator William Christy Smith (Genevieve Rheams, originally scheduled, sadly could not participate). We had a lively discussion.
Writer David Pratt led the discussion for the Plague Years panel, featuring writers Ken Harvey, Hans M. Hirschi, poet Daniel W.K. Lee, and yours truly. I loved how we met beforehand for a lovely, mellow breakfast to plot out the discussion. I thoroughly enjoyed our event, particularly how we engaged with our receptive audience.
I also had the honor of having a short story appear in this year's festival anthology. I also appeared in the 2020 edition with the short story "Tom of Boalt Hall." But this time I had the chance to participate in a live reading during Saturday evening's celebration of the fiction and poetry anthologies. It was a wonderful evening.
With thanks to friend Robert Green, here is a video of my reading. You can purchase the fiction and poetry anthologies from publisher Rebel Satori Press. Hope you enjoy the video. I can't wait until the next Saints & Sinners!
(Having embedding issues. You can find the video here.)
© 2022, gar. All rights reserved.