There is an old stool sitting in the back of the garage next to the treadmill. It has gray painted metal legs and a round wooden seat. Part of the seat broke away, exposing some of the metal support underneath. How this happened I couldn't say. I cannot recall a time when it did not look that way. There are two sets of horizontal bars that go around the legs of the stool, places where one can place one's feet. The lower set of bars has flat supports on top. For many years, a checkerboard sat in this location. It has since disappeared.
Indeed, how I ended up in possession of this stool remains a slight mystery to me. I remember sitting on it to listen to shortwave. At that time, my radio sat on a tall speaker. It was huge, really, particularly by today's standards. Turquois vinyl covered a particleboard housing and within was a huge cone, probably 12-14 inches in diameter. There was actually a hole for a second mega speaker cone, but that one had been removed. I added a little tweeter. The thing stood about four and a half feet tall. So it elevated my shortwave radio up a ways, making the stool a handy place to sit whenever I fiddled with the dials to find the latest far way signal to listen to.
But my ass was not the first in the family to grace that stool. That honor belonged to my brother, Robert. During his woodshedding days as he perfected his art as a bassist, he sat on that stool hour after hour, day after day, practicing scales, runs, and riffs. He would play along with headphones on, either listening to himself or listening to music to practice with. The broken seat formed a perfect place for his left leg to rest as it stretched to the floor. He'd prop his right foot on one of the horizontal bars so that his bass could rest on that leg. Though it's been many decades since the stool supported him during his practicing, I can still hear his well-rounded notes, thumb-slapping funk, and falsetto harmonics whenever I pass by the stool, now in semi-retirement in the garage.
These days, those notes and visions of yesteryear come more readily, and with a tinge of blue. Earlier this year, Robert received word that he has a serious illness. We've all heard of it; it starts with C. One goes through life, getting by, doing well, doing so-so, living a life, and then news like this happens and all else seems to vanish. Why, what for, how could it be so? Anger. Pain. Fear. The courage I need to maintain, to help Robert maintain, ironically, has come largely from Robert himself. There were times when we talked on the phone where I felt as if I could have fallen apart instantly, but for the sound of his voice and the strength of defiance I heard in it.
It's not easy being an artist, a professional musician, which Robert has been virtually all his adult life. Oh sure, he went to UCLA and majored in engineering and he's a damn good engineer. In fact, he used his electrical engineering skills to design pick-ups for one of his electric basses.  But his heart has always been in music. He's played with big names in the business and had many memorable gigs both live and in studio. But to maintain as a musician, one has to hustle. Illness makes that impossible.
The music business has long taken care of its own. Many musicians organize concerts for their fellows to help pay for medical expenses or living expenses while they recover. It is a noble tradition, one necessitated by our society's inability to fully support the arts and those who create. However, as part of this noble tradition, one of Robert's friends set up a PayPal page for folks to make donations.
I have never in the three year history of the gar spot asked for money. But I am asking for donations for my brother. I live in Oakland; he lives in Southern California. So I am not able to be part of the day-to-day support that he requires. But at least I can help spread the word to help raise a little money for him to keep on keeping on.
I have three siblings who are professional musicians. I dally with a bit of music myself. So I have a rule: if I enjoy a musician busking on the street, even for just a few minutes, then I have to drop some money into the case or hat. When Robert and my other siblings came up to visit many Christmases ago, we ran into a busker in San Francisco, at the Ferry Building. He played some Billy Strayhorn. We all rocked out to it, and I even sang "Lush Life" with him. We had a blast. Needless to say, we all put something in his hat. The donation acknowledged the work and skill the musician had developed. Music, like engineering, is a taxing discipline.
If you have a little extra, if you've ever enjoyed a musician on the street, if you have a strong attachment to music, if you possibly have heard my brother play in concert or on record, please consider giving a little something to his PayPal fund.
And please also keep my brother in your thoughts, that he may heal and become whole again.
Thank you, and peace, love, and music to everyone for 2014.
[Updated 3/11/14: As Robert has now sadly passed away, the contribution fund has been closed. Many thanks to all that contributed and thought of my dear brother during his ailment.]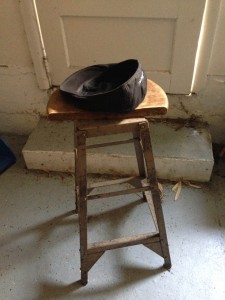 © 2013 – 2014, gar. All rights reserved.