Dinosaur.
Dinosaur.
Dinosaur.
I'm lost. I enter rooms and forget where I am. I drive streets I've known since childhood aimlessly. I make wrong turns to correct other wrong turns.
Robert called me when both Mom and Dad, in their turns, passed on. I had to call my other siblings once I got word from Nancy, Robert's partner of over 30 years, that he lost his battle with cancer. Louis and I had just visited that afternoon. Louis played bass guitar. Robert seemed to finger along with him. Then he seemed to have waved us away. A few hours after that visit, just after Louis and I returned home, Robert departed.
His eyes never closed. I saw astonishment, as if he were saying, "Is this really all there is?" It was eerie to look into that face, knowing that he would never look back at me again.
Dinosaur.
Dinosaur.
My mind frequently returns to the more familiar. Like when the family gathered at our place in Oakland for Christmas. Eartha Kitt had just passed. Robert called his friend Matt and they reminisced over the time she scolded them for endangering her dog while driving wildly in her neighborhood. The gorgeous songstress wore harsh lines of contempt as she glared at each of the boys in the car, one by one. "Consider yourselves spanked!" she hissed before walking away. Her anger, meant to chastise, had a different effect on the errant boys in the car. I could feel their adolescent hormones popping as Robert told the tale.
I'm remembering that Robert was the first person I came out to, before I was really ready to come out. It was during one of those moments in the bedroom together. He had just come in and I was in bed. We chatted about this and that. Somehow, somewhere, I asked if he would mind he I were gay. He said solemnly and lovingly that it would not matter to him at all. And in time, when I did come out, it did not.
Dinosaur.
Sometimes it hurts to remember the familiar places. While in LA, going through the motions after losing a loved one, I wondered what would it be like when I returned home to Oakland. In my office is the 77 year-old shortwave radio Robert gave to me when I was 10. Will it be hard to look at old faithful without feeling pangs? Robert got that radio at a summer job back in the late 60s. My dad brought it back to life. Robert kept it going for years afterwards, his nascent talents as an electrical engineer blossoming. In time, I learned a few things about maintaining it. But I don't consider myself an electrical genius. Now both he and Dad are gone. How will I keep that old radio going without their superior expertise?
The dread of losing Robert started for me, really, months ago, when the operation had not done the trick, when the margins turned out not to be as clear as first thought. Robert didn't like to give details. It was his attempt at staying positive. But I feared things were not going well. He was not putting on any weight and the swelling in his mouth was not decreasing, ominous clues. It entered his lungs, a bad sign.
Dinosaur.
I visited UCLA a few days after Robert passed. I sat on under the stone arches at Royce Hall, a place I've always called the porch, the location where I wrote some of my most personal journal entries when I was a student. I could see the dorms from where I sat. Long ago, Robert and a bunch of friends were in one of the rooms, studying for an engineering final. They crammed for hours, days. Then, the Sunday before the test, Robert said, "Let's go to Disneyland!" And they did. He said they had the time of their lives. The next day, he aced the exam. No doubt his friends did, too.
Dinosaur.
Dinosaur.
Dinosaur.
One long ago late night, Robert came home, crept silently into the bedroom. I was already in bed. We chatted softly, though he was not convinced that I was fully awake. I had a habit of sleepwalking and sleep-talking when I was young. "OK," he said, "the magic word is 'dinosaur.' If you remember that in the morning, then I know that you're not asleep." I'm still awake. I still remember.
Familiar places can hurt, their memories so searing. After my mother died, I couldn't listen to classical music for years. But the familiar places also comfort. At times, in the right moments, they will be the warm embraces that physically are no longer there.
58 is too young to die. I hate cancer.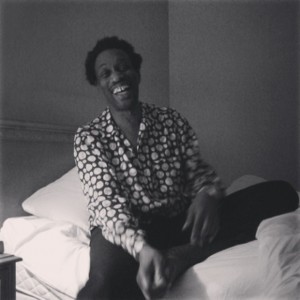 Robert Adrian Russell, 1955 – 2014

RIP
[For another tribute of this remarkable man, please read my sister's post at her site Makeup to Go!.]
© 2014, gar. All rights reserved.