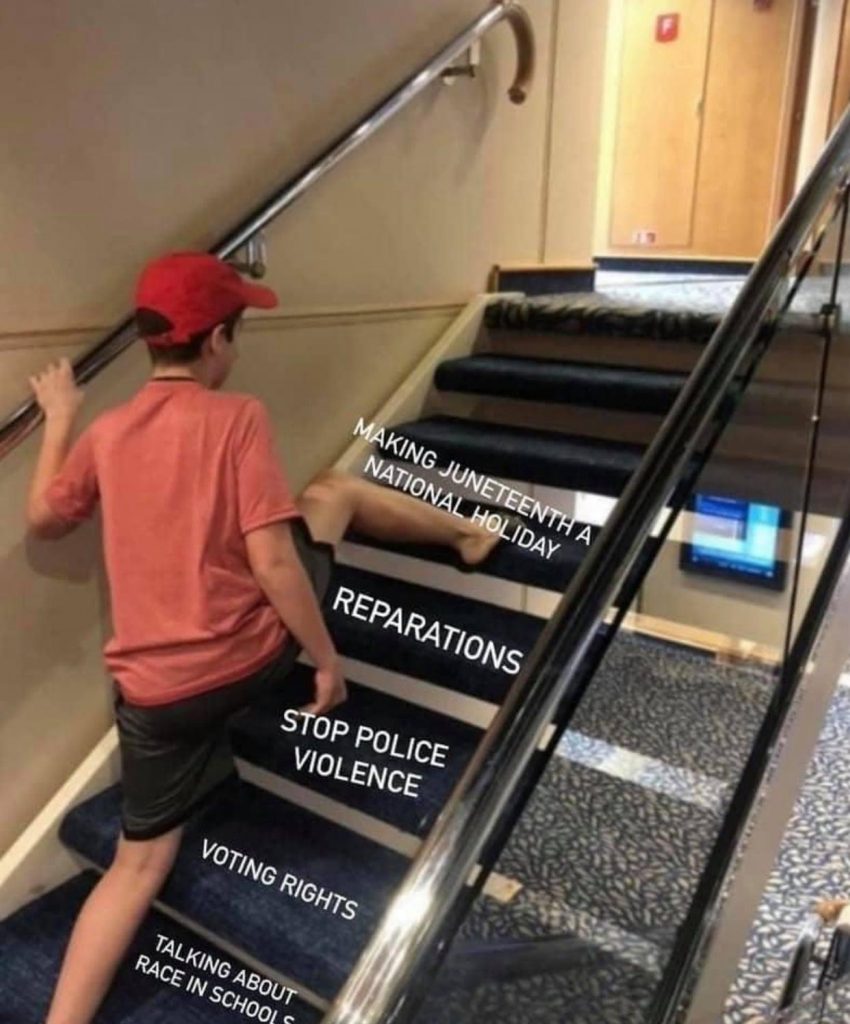 My agent got me a gig on a public service announcement about Juneteenth, a 30-second ad to recognize and celebrate the new national holiday. Who's doing it, the government? I asked. After a pause, he answered Step Right Up, Inc., real quick, like at 80 MPH. When he talked fast, that meant he wanted to hurry up and get off the phone with me, which meant he didn't want me asking too many questions. So, of course, I persisted.
You mean the parent company of BargainsGalore.com?
Yeah, yeah, he said. So I was like, why would SRU wanna do a spot about Juneteenth?
Look, I don't know. Why would I know? It's a gig, alright?
Without seeing him, I knew he was hella puffing on a cigar, which he claimed to have given up years ago.
Alright, I said, so what's the part? He said I would play some character called BL, that it was crucial to the ad.
This could lead to all sort of possibilities, my friend. Don't let this one pass you by. It's a good one.
Oh, how many times had I heard that one.
So I went, an 8 am call, regular make up and hair, no wardrobe. Just wear your regular street clothes, they told me. They'd augment if necessary. So I wore my Vans, blue jeans, a grey T and my navy blue hoodie, cause it was slightly chilly for the time of year.
Not too many Black folks on set, as in just two, myself and the make-up artist, a sister named Davissa. She primped me up and I pumped her up for more info.
Only just added to the crew last night, she said, so she couldn't tell me anything about BL and what I was supposed to do.
Didn't they send you the script?
No.
Oh, she said, dabbing my face with her brush.
The initial email telling me what to wear, etc., said that the script would follow later. It didn't. I asked her what she thought about the Juneteenth holiday. She gave me the eye, that look that Black folks made when they had a mouthful to say, but couldn't because mixed company. Maybe we could catch up for coffee later, I thought, wishing to hear her thoughts on it.
As I walked out of make up, a white woman with frizzy red hair and dark rim glasses, clutching an iPad, rushed towards me.
You an extra or the BL?
Uh, I'm here to play BL.
Oh, OK, good. Come on.
We dashed like running a marathon, me trying not to trip over any of the cables strewn around, she mad typing on her tablet.
And you're wearing a hoodie, she commented, still typing. Perfect. Come on.
Uh, excuse me, when do I get to see the script?
Didn't you get the email?
No.
Well, we sent it yesterday.
I had wondered. Scripts arriving at midnight the night before a shoot was not an uncommon thing, especially for little gigs like this. Knowing this, I had my iPhone set to ping loudly for incoming emails. Of course all I got were ads, mostly from BargainsGalore.com. Once you buy something from them, they'll send you 87 emails about all the other versions of the thing you bought. Like I needed 87 other brands of razors or underwear or whatever. But no script. As we dash across the set, I checked my spam folder, but still didn't see an email from them. I told this to Dashing Red, who gave me an annoyed glance. She kept pounding on her tablet.
Wait here.
I took a seat next to one of the lights, started to look around. I began to wonder if I was on the wrong set. I saw wheeled stages for a kitchen full of the latest in home appliances. Another for a pimped out bathroom. Another for a backyard, with a hot tub, barbecue pit, and lounge chairs. Another for with a bedroom set. It just went on and on and on.
A tall, bald-headed white dude pushed between me and the light, stepping on my foot. Before I could call him out, he started barking orders in a megaphone.
Right! Let's do a dry run before the BL gets here, alright?
A bell rang. It got real quiet.
ACTION!
A heavy bass backbeat started playing: Boom-Boom-BOOM! Boom-Boom-BOOM!
Then the sets started whirling around like amusement park rides. Each one took a turn in front of the spot light.
JUNETEENTH SALE!
JUNETEENTH SALE!
JUNETEENTH SALE!
DON'T MISS IT!
Appliance techs skated around on roller blades, up to the kitchen to connect a dishwasher. A gleeful housewife stood nearby, beaming.
Then the bedroom set came around. Installers entered doing somersaults. A mattress came down from out of nowhere. They reached up and guided it onto the bed, a beaming husband and wife looking joyfully at their new playpen.
Then the dining room set came around. Acrobats started whirling in the air, flipping from trapeze to trapeze, catching each other. Cannons went off. Then this chandelier floated down, another happy het couple grinning from ear to ear over their latest purchase.
JUNETEENTH SALE! (Bargains Galore!)
JUNETEENTH SALE! (Look what's in store!)
JUNETEENTH SALE! (The freedom to buy!)
DON'T MISS IT! (My oh my!)
My eyes popped and my mouth gaped as I stared at the biggest BargainGalore.com ad ever, even by their own gaudy standards. This outdid their last four Super Bowl ads.
What the hell does any of this have to do with Juneteenth?
Everything froze. All eyes looked at me. I thought I had said that to myself, but I guess I said it aloud. Well, maybe a bit loud. OK, I was screaming at the top of my goddamn lungs.
The Director yelled take five and walked over to me.
Who the hell are you?
I'm here to play BL?
Oh, you're the BL? Ah, good, you're wearing a hoodie. But that isn't the line. Did they change the script?
Before I could tell him I didn't have a copy of the script, he started yelling for someone to get him the latest version. My phone pinged. An email. The script. I guess somebody forgot to send it last night. Maybe Frizzy Redhead. I opened it and sure enough, my opening line was "What's all this about?"
And I read more.
"Juneteenth isn't about new kitchen appliances or mattress sales. It is a celebration of freedom. When Abraham Lincoln issued the Emancipation Proclamation, African-Americans across the country rose up in celebration. They could remove their shackles and begin to enjoy the freedoms that this great country offered. The right to buy land. The right to own a business, or take a job of their choosing, not one imposed upon them. It may have taken two years for the message to reach everyone, communication being what it was before cellphones [SMILE], but when they got word, [RAISE VOICE DRAMATICALLY] they began holding jubilees all over this great nation of ours, with lots of good food, singing, and dancing. And when they did, they were the first generation of African-Americans to shout those sacred words: [HOLD HAND UP LIKE MLK] 'Free at last! Free at last! Thank God almighty! We're free at last!'"
"And that's what Juneteenth is about" was my last line.
BL. The BL. At last I figured it out. I was the Black Linus, the one who came out to explain the "true meaning" of the holiday, like on "A Charlie Brown Christmas." I was to feature in its sequel, "A Black Linus Juneteenth."
As I stood there frozen, unable to move or think or anything, the director walked over to me. He said that my alteration fit, so it was a keeper. Then he turned around and spoke through his megaphone.
FORGET THE PINK PAGES, EVERYONE! WE GOT THIS. GET READY TO DO IT FOR REAL.
You ready? he asked me.
What should I tell him? That no, that wasn't how it worked. That folks didn't start holding cook-outs, eating watermelon and fried chicken. That folks in the 19th century found out the result of presidential elections fast enough, even without cellphones, and that slaveowners in Texas deliberately withheld the news of emancipation. That Reconstruction failed because the racists made sure it would fail, and then they donned white hoods and started hanging Black folks left right and center. That Black folks didn't get 40 acres and a mule, but sharecropping and Jim Crow. That Woodrow Wilson set back the Black middle-class in DC by purging every Black person who worked in government, no matter how menial the job. That white folks in Tulsa destroyed Black Wall Street as a lesson to what happens to uppity Negroes. That white America wanted no part of Dr. Martin Luther King, Jr. until he was dead, buried, and gone, and then they could make him what they wanted, a tamed lion that performed tricks when needed. Do I tell him any of this shit?
You ready? he repeated.
Without thinking, I pulled the hood of my hoodie over my head. Is this how Black Linus does it, with a hoodie instead of a blanket, when he wants to hide from the world?
© 2021, gar. All rights reserved.