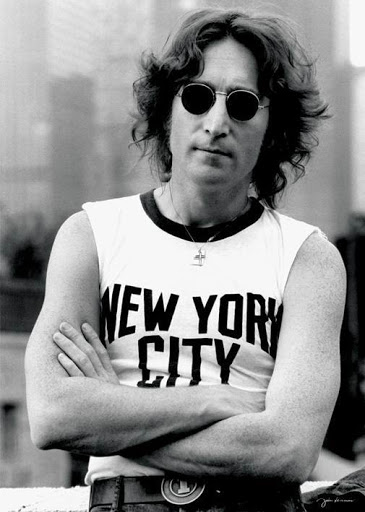 I remember the morning after more clearly. My father had the whole month of December off for vacation, so he was home that day. He drove my sister and me to school. We went to a magnet school and normally rode a school bus. It was a four and a half mile drive. Dad had the car radio going, can't remember which station. They played some Beatles music, but I mostly remember hearing his latest album, the last he would live to see release.
I'm just sitting here watching the wheels go round and round

I really love to watch them roll

No longer riding on the merry-go-round

I just had to let it go
Like most of America, we heard the news from Howard Cosell during Monday Night Football. And we all sort of froze, wondering if we had heard it correctly.
It felt real the next morning, with the music and the tributes. And yet it didn't feel real at all. The sky felt different. Colors looked different. All turned psychedelic, pastel, flashy, bright, as if the world had tripped into Strawberry Fields. Or Lucy had descended from the sky, her diamonds blinding us with brilliance.
I was just getting into the Beatles music and history at that time. So I knew about the acrimonious breakup. And yet, when I heard Paul McCartney's first words ("Drag, isn't it?") I didn't hear a flippant answer from someone still holding a grudge, as most of the media tried to portray. Even at 15, I could hear in those words a man at a loss, shocked, probably in more pain than even he knew at the time. Decades later, Sir Paul participated in one of the many marches for gun safety after Parkland. When asked by the media why he was marched, he reminded them that he lost a friend to gun violence.
The music played and the tributes continued that morning. It was a surreal car ride. Even though I barely knew anything, I still felt numb by it. Probably the thing on my mind most at the time was the question, why? 40 years later, on this day, a part of me is still sitting in my father's car with my sister. And still wondering, why?
© 2020, gar. All rights reserved.