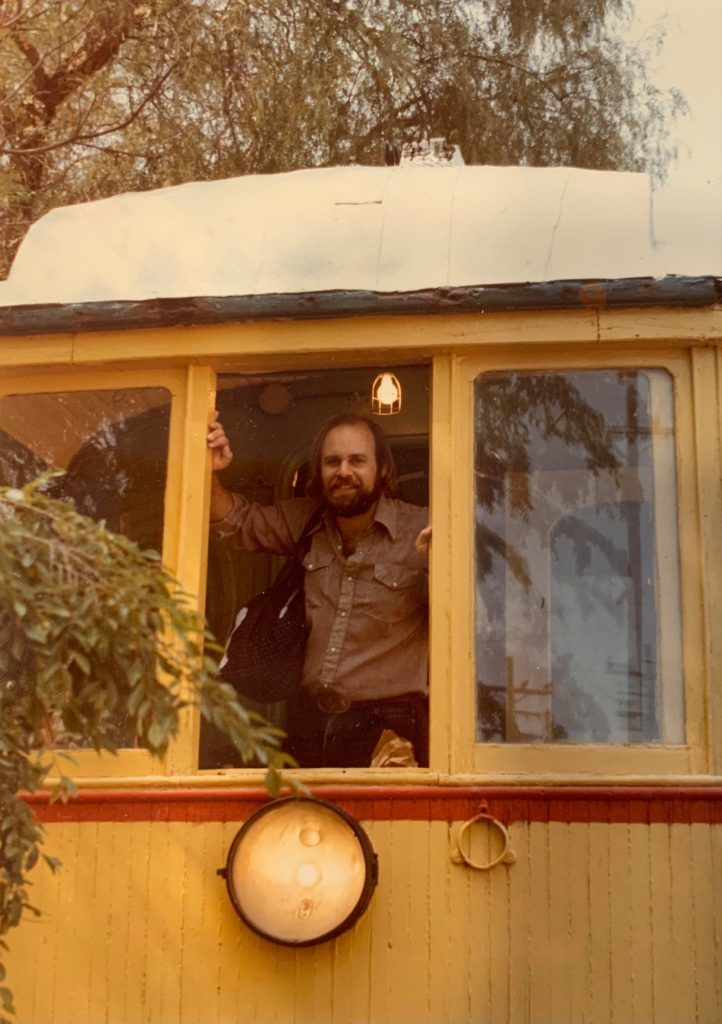 Ask me who instigated the plot and with hand raised timidly I have to confess my guilt. We were at the Mulholland Tennis Club celebrating our friend Suzanne's bat mitzvah. A bar served drinks; us kids were consigned to non-alcoholic of course. I had Shirley Temples, probably one too many. A group of us went to the bar and asked for a banana daiquiri. It was a for a friend, we said. Then we went to the DJ and asked him if he could play "Yes! We Have No Bananas." It's for a friend, we said. Fortunately, the DJ had it in his collection and squeezed it in between the more contemporary dance music he played. Once it started, we proudly marched the daiquiri to our friend, all smiles—or should I say shit-eating grins.
Jeff Robbins looked at us with those gentle brown eyes, smiling beneath his thick, woolly mustache and beard, and shook his head, keeping whatever profanities he had under his breath. Jeff hated, hated bananas. But he loved a good joke and laughed mightily at our wit and cheek.
My history with Jeff goes back to the Temple, as we old-timers say. 1977, the year the Center for Enriched Studies (CES, as it was known then) first opened in rented classrooms in back of the Wilshire Boulevard Temple. Jeff held forth in rm. 228. I had him for Photography. We took pictures of objects, buildings, the playground, each other. We even learned how to develop film in a dark room.
But Jeff taught us much more than that. In each subject he taught, he infused all of himself, his myriad of interests. Thus, the Photography class contained more than a small dose of history. In particular, he taught us about Mathew Brady and his importance documenting the Civil War. He also taught Architectural Math, Music Appreciation, and Comparative Religions, among other subjects.
Thus, Jeff was a true renaissance man. His subjects blended together, each informing the other. His broad width of intelligence and interests, along with his taste for bad puns and his wise-ass-but-kind demeanor made him one of the most popular teachers at CES.
We had to do a project in Photography, pick a subject and do a photo essay on it. I cheekily picked Jeff himself. To my surprise, he invited me to his home. That's when I met his wife Nancy, a wonderful companion for Jeff with an equally wide range of interests and a formidable wit of her own. She also taught in the LA schools and welcomed me into their home as she did all of Jeff's kooky students. In time, I would meet the two wonderful people they brought into the world, Ian and Courtnay. A man of great passion, it was beautiful to see how much he adored his family.
During that first trip to Jeff's house, I discovered his great love of trains. His basement office looked like a turn-of-the-century train depot, replete with mounted train schedules, signaling lights, station plaques, everything. Many years later, as a retired counsellor and teacher, Jeff's first novel, The Layout, would focus on trains and rail enthusiasts.
We had many mutual loves and interests, music, astronomy, antiques, history. He followed me and my growth over the years, including my studies of Indian classical music. I've played both sitar and tabla at their house. And Jeff's stereo is something I've tried to emulate for decades. It had such a lush sound, filling the room with warmth.
While I often say that I wish I had had History with Jeff at CES, in reality I learned much history from him outside of the classroom. He introduced me to Howard Zinn's A People's History of the United States. And like his colleague and close friend John Otterness, like all of the best CES had to offer, he taught independent thinking, free thought, and curiosity. These tools made me the person I am today.
Jeff treated us like humans, not children. Thus, our 43 year relationship really only changed because we as humans change over the course of time. The last time we spoke together, in June of this year, felt like many other times we spoke on the phone over the years. We asked about each other, gave updates, laughed at the absurdity of everything, kvetched about he absurdity of everything.
Nothing lead me to believe or think that he would be leaving us in a few month's time. Indeed, per his family, his final illness came on suddenly. We talked about the future. I said how wonderful it would be for us to meet at the California State Railroad Museum in Sacramento, that he would make a badass docent. He paused a bit and agreed what a wonderful meet up that would be. Perhaps when COVID-19 passes, we thought, we hoped.
We met when I was 12 and he was 32, both kids, really. Part of us stayed kids, I think, to the very end. I could still see his boyish smile and twinkle as we spoke on the phone that last time.
You were loved, Jeff, by countless students you shepherded over the decades. I love you, more than I can say and I'll miss you horribly. My deepest condolences to Nancy, Ian, and Courtnay.
Thank you for all the lessons and your friendship.
[Editor's Note (11/13/20): Fourth paragraph from the bottom revised to reflect information from the family that Jeff did not know he was ill in June and that his final ailment came on suddenly. (See Nancy's note below in comments.)]
© 2020, gar. All rights reserved.