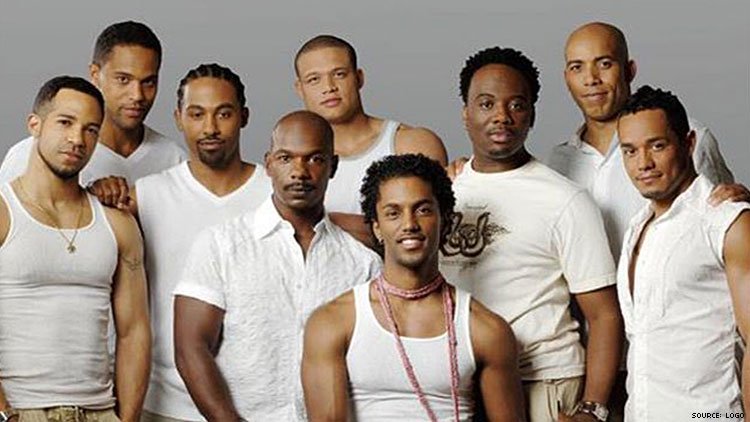 Black queerdom collectively gasped when word got out that Patrik-Ian Polk created a Noah's Arc reunion. No, not in production, not in the planning stages, not in the cards, but in the flesh. (LOTS of flesh.) The magic dropped on Sunday, July 5, a perfect way to end the Independence Day Weekend. 
Entitled "The 'Rona Chronicles," we catch up with our favorite black gay divas—Noah (Darryl Stephens), Alex (Rodney Chester), Ricky (Christian Vincent), and Chance (Doug Spearman)—as they shelter-in-place, their catty banter and tea pouring continuing via Zoom…
And let's pause for a second. Since March, I've largely worn t-shirts, sweatpants, and shorts while working from home. Not our divas, honey. About 10 minutes into the story, and I tweeted "Oh dear. I'm gonna have to up my Zoom dress game. Big time."
During a Zoom with Alex, Noah tries on one fab outfit after another. Indecisive as ever, he wants to look his best for a Zoom party with the fam, where he and Wade (Jensen Atwood) have huge announcement. But Wade is in the doghouse because he just had to go out and play ball with the boys, and two of them end up testing positive for the 'Rona. He has to stay in isolation in their large house (mansion?) and wear a hazmat suit whenever he steps out of it.
Despite Wade's personae-non-grata status, the party happens and the happy couple announce that they are expecting a baby. But before the toasting begins, Noah gets a call from Brandy (Jennia Fredrique) with a dream job offer: show-runner on a new Netflix production. He had planned to become a stay-at-home dad once the baby comes, but now, will he?
Lots of classic Noah subplots take place, bringing in Wilson Cruz as Junito Vargas, Gregory Kieth as Trey, Jonathan Julian as Eddie, and a fabulous cameo by Wanda Sykes. At times witty, at times moving, its constantly entertaining and endearing, just as this classic series has always been since its debut 15(!) years ago.
While sheltering-in-place, I've largely avoided new TV stuck with comfort food TV (Bewitched, mostly). But this new installment of Noah felt like a homecoming, as comfortable as buttermilk pancakes. Creator Patrik-Ian Polk brought it all together. He clearly loves these characters. As do we all.
I came out just a year before Marlon Riggs' seminal documentary Tongues Untied (1989) dropped, spilling the tea on black gay life to the world for the first time. Noah's Arc is a valued part of this legacy. The hunger for the show has hardly diminished and it remains a lasting mystery to me why it only lasted for two seasons. With its huge fan base constantly screaming for more, let's hope that the television powers that be will listen and green light more episodes, so long as Polk and crew are willing and able to do it.
Check out the magic of this 15-year reunion on Patrik-Ian Polk's YouTube page. And bring your boa. (But hurry! It will only stream for another day or two.)
© 2020, gar. All rights reserved.