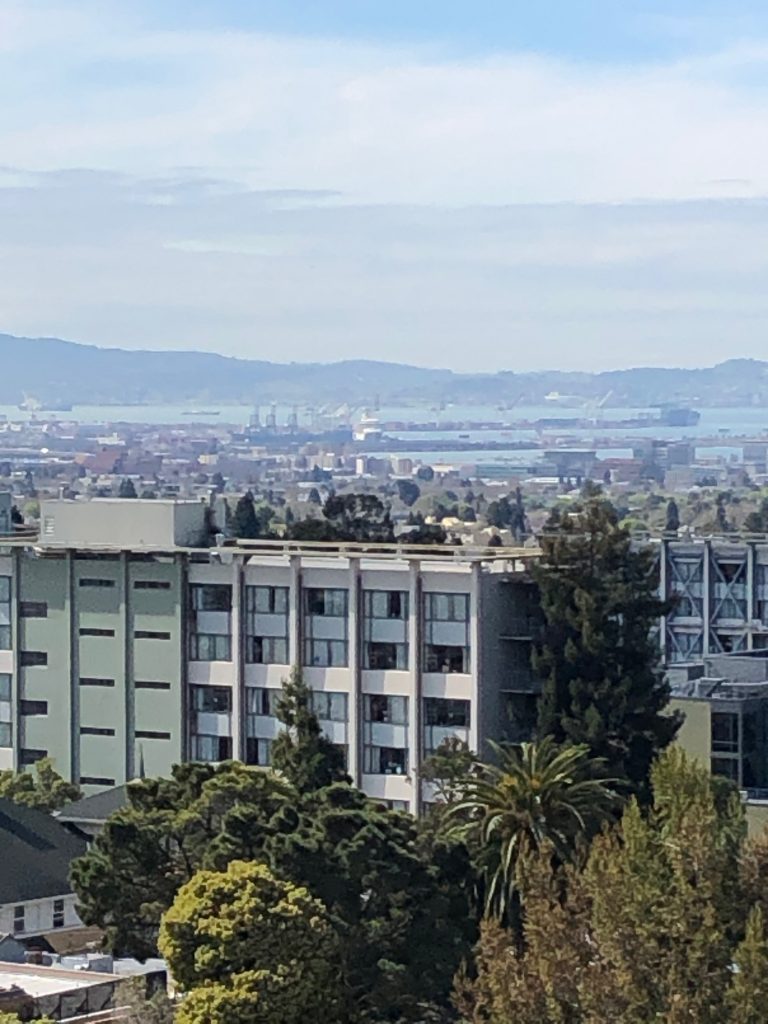 We're not testing enough for the coronavirus, COVID-19. We've made this mistake before and it led to dire consequences. It gives me eerie flashbacks.
AIDS had already taken over 10,000 lives before a test for HIV became available in 1985. Prejudice and bigotry slowed the development of tests, treatments, or even a clear explanation of how HIV transmitted from person to person. All of this dithering cost lives. One cannot get a handle on a disease if you don't know the extent it has spread. You can't protect people without that simple knowledge.
The US falls well behind other nations in terms of testing for COVID-19. This chart from Business Insider tells a grim story: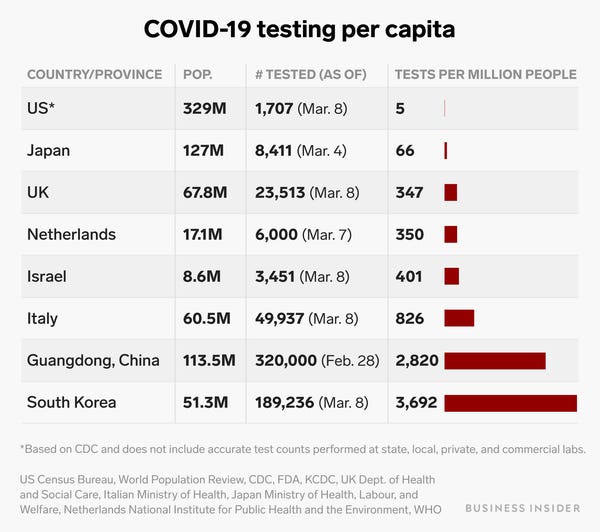 Bigotry has also played a role in attitudes about COVID-19. House Minority Leader Kevin McCarthy referred to the disease as the "Chinese coronavirus" in a tweet. Sadly anti Asian bigotry is on the rise. But other foolishness has contributed to the lack of testing. That foolishness being the current resident of the White House.
Trump has called the coronavirus a "hoax" promulgated by the usual enemies, Democrats and the free press (aka Fake News). Repeatedly, he has demonstrated a lack of knowledge of even the basic facts. In a recent tweet, while trying to make a point that not many Americans have contracted COVID-19, he made the opposite point. The data he cited gave a 4% mortality rate.
USING YOUR OWN STATS:

40 million people caught the flu in 2018/19. So 37,000 deaths would be a <0.1% mortality rate.

22 deaths out of 546 detected cases of coronavirus is a 4% mortality rate.

— Pé (@4everNeverTrump) March 9, 2020
But in truth, we don't know what the mortality rate is in this country, because don't know how far it has spread. We can't. The test is not sufficiently available. Until that happens, we can't know anything about COVID-19 or hope to contain it in any meaningful way.
This all comes from having incompetence in power. Neither Trump nor Pence have any credibility with managing a disaster. Trump horribly botched the response to the devastation of Puerto Rico caused by Hurricane Maria. And speaking of HIV, Pence helped to advance the spread of the disease as governor of Indiana. Instead of acting to an increase of infections by the use of dirty needles, he dithered, and more folks became infected as a result.
In an ideal world, both Trump and Pence would resign or get removed from office, opening the door for Speaker Nancy Pelosi to become president. Then, she could lead a proper response to COVID-19. I doubt she would run for reelection, so whoever the Democratic nominee turns out to be could win in November and then take over in January, 2021. Sadly, this scenario will not likely play out. Neither Trump nor Pence are going anywhere any time soon.
In the meanwhile, citizens and the media need to continue to hold Trump and Pence accountable. Lives are at stake. At the very least, they need to lose the election. With their leadership, disasters will become commonplace.
© 2020, gar. All rights reserved.