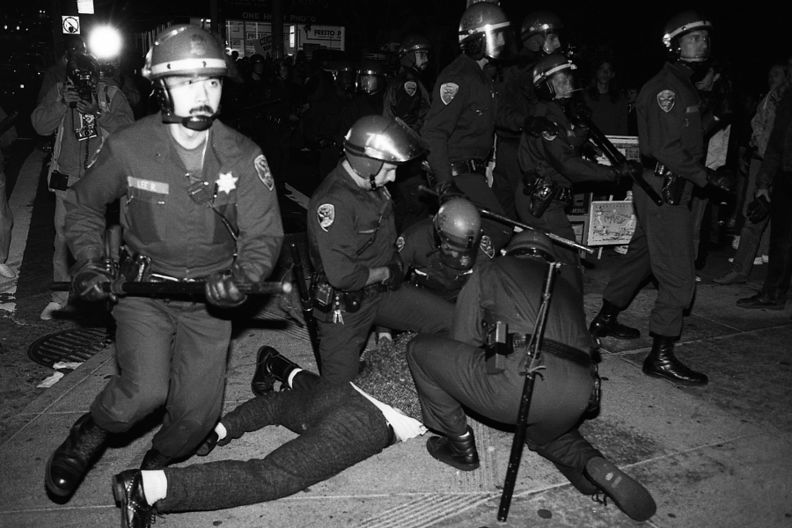 Thirty years ago, October 6, 1989, the Castro Sweep happened. And I was there. What started as a fairly routine ACT UP demonstration turned into a police overreach of epic proportions.
I wrote about the Sweep a few years ago in a review/critique of a book by Paul Krassner (RIP), where he wrote about his experiences getting caught up in, and beat up at, the White Night riots. That rebellion happened after murderer Dan White received a namby-pamby verdict for assassinating Harvey Milk and George Moscone. During White Night, the police raided the Elephant Walk bar in the Castro, smashing its windows and randomly beating people.
I saw the Castro Sweep as a sort of sequel to White Night. Many of the same attitudes on the part of the SFPD prevailed: a need to "get back at" the queer community in general and ACT UP in particular. Here's what I wrote in the Krassner book review piece (from January 11, 2015):
Just over a decade later, in October 1989, the SFPD would reenact the White Night Riots in what became known as the Castro Sweep. And I was there. It started as an innocuous ACT UP march from Civic Center to the Castro. It turned into a police take over of the Castro, with police quarantining people inside their homes, inside the bars, inside Different Light, while they marched down Market and then Castro and beat people. I was on top of a newspaper stand, screaming at them to stop beating a friend of mine. An officer calmly asked me to get down, so I got down. He was one of the few cooler heads in the police crowd that evening. Later, as I was walking to the Castro Muni Metro station, one or two officers charged at us, and we ran into the station. Fortunately, they did not pursue us any further. 
I should add that my future husband was out to dinner that night in the Castro with his then-partner. The police trapped them in their restaurant along with a lot of other bewildered, perplexed, and pissed off patrons out. Shutting down a whole neighborhood over a non-violent demonstration was an outrageous overreach of police authority. Had they allowed us to finish out demonstration at Castro and Market, we would have done our thing, departed, and joined the throngs out for a Friday night.
But the officers responding that night felt a need to act punitively, to put the "deviants" in their place. Just like in 1979 after White Night. Just like in 1966 when they attacked the transgender community at Compton's Cafeteria. Just like any police raid on any queer establishment, something that occurred with alarming regularity in the years before Stonewall.
Unlike the pre-Stonewall raids or White Night, SFPD received a harsh rebuke from City Hall and the Hall of Justice in wake of the Sweep. Then-Police Chief Frank Jordan demoted his own brother, Deputy Chief Jack Jordan, after the affair. His brother had supervised the night's activities. And a Take Back the Castro march happened the following night in which several elected city officials joined in, showing their support for the community.
While I'm happy that there has been no sequel to Castro Sweep, minority communities continue to have troubled relations with police departments across the country. Two years after the Sweep, the Rodney King beating happened. Today, we live in the age of Black Lives Matters and the state-sanctioned harassment of immigrant communities. A lot of work has to happen before all minority communities—sexual, racial, immigrant—can feel safe going to those who are sworn to protect and serve without fear of retaliation or violence. 
© 2019, gar. All rights reserved.