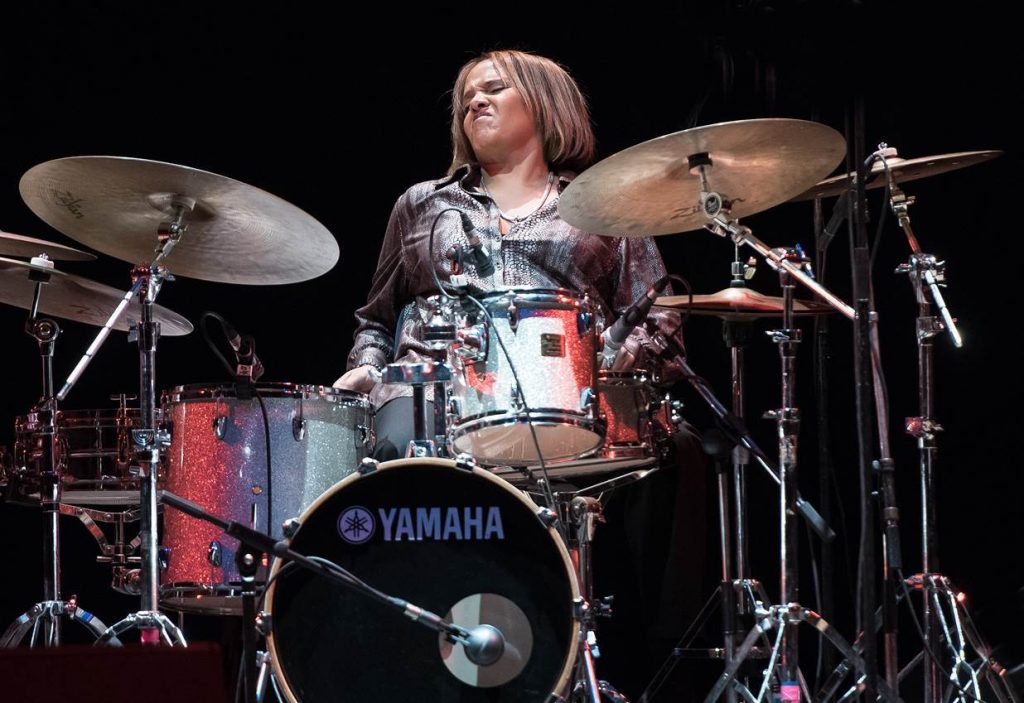 Terri Lyne Carrington was born in Medford, Massachusetts in August of 1965. Her father played sax and her grandfather played sax and drums. (Her grandfather once played drums for Duke Ellington.) Ms. Carrington says that her grandfather died before her birth, but that his drums were still in the house. So around age 7, she started playing them. At age 10 she played her first professional gig. Over 40 years later, she has built an outstanding, award winning career.
Because of her father, Ms. Carrington met some of jazz's biggest names early in life. Eddie "Lockjaw" Davis, Al Cohn, Dianne Reeves, Clark Terry. Whenever a big name came through town, her father could take her to the show and introduce her, touting her musical abilities. These connections would help her as she established her career.
She studied at Berklee College of Music under the mentorship of Jack DeJohnette and soon found work in New York and later Los Angeles. Trekking to the West Coast, she became a drummer for the Arsenio Hall Show's band and for the band on Quincy Jones's VIBE TV show.
It's really impossible to find a musician she hasn't played with or a style of music she hasn't successfully tackled. Her work that has interested me the most include Money Jungle: Provocative in Blue and Mosaic Project.
Money Jungle is a re-imaging of the famous album of the same name by Duke Ellington, Charles Mingus, and Max Roach. Here, Ms. Carrington is accompanied by Gerald Clayton on piano and Christian McBride on bass. The album also features several guest artists providing vocals and spoken word, including author/activist Michael Ruppert and jazz god (and former Ellingtonian) Clark Terry.
The Mosaic Project features a blending of personalities. One personality tends towards complex melodies and harmonies, while the other towards funk and pop. Helping her with this blending of music are Cassandra Wilson, Dianne Reeves, Dee Dee Bridgewater, Nona Hendryx, Esperanza Spaulding, and Gretchen Parlato. Tracks include the Beatles standard "Michelle," "Echo," by Bernice Johnson Reagon (of Sweet Honey and the Rock fame), and "Unconditional Love" by Geri Allen. This work received a Grammy in 2011 for Best Jazz Vocal Album.
Hearing Ms. Carrington on record is a treat and a joy. Seeing her perform live is a sublime experience that I cannot recommend highly enough. I had the opportunity last summer, at the Healdsburg Jazz Festival. She played in a concert with Ravi Coltrane on sax and Dave Holland (another personal favorite) on bass.
On stage tucked in the background sat a piano, in silence. Pianist Geri Allen was to have performed at this show, but the legendary pianist died from cancer a year earlier, in June, 2017. At the start of the performance, they played a video of Ms. Allen projected above the stage. She spoke about music and then began playing a piece. The band picked up the composition. As the video faded, they carried on, continuing her train of thought for her. It was a chilling and beautiful moment.
I couldn't keep my eyes off Ms. Carrington. As a long-time tabla player, I naturally gravitate towards drummers and percussionists. But her playing was just next level. She melded with her colleagues, supporting them without stepping on them. In particular, she showed a strong rapport with Dave Holland, whom she looked at and exchanged glances with throughout. They've enjoyed a long playing relationship, and it showed. Drums can be a very melodic instrument in the right hands, a fact Ms. Carrington demonstrated effortlessly.
Visit Terri Lyne Carrington's website for more about her amazing music. And check out the video below. She is joined by Geri Allen and bassist Esperanza Spalding—a group they dubbed ACS from their initials—performing in a tribute concert for Wayne Shorter's 80th birthday in 2013.
© 2019, gar. All rights reserved.