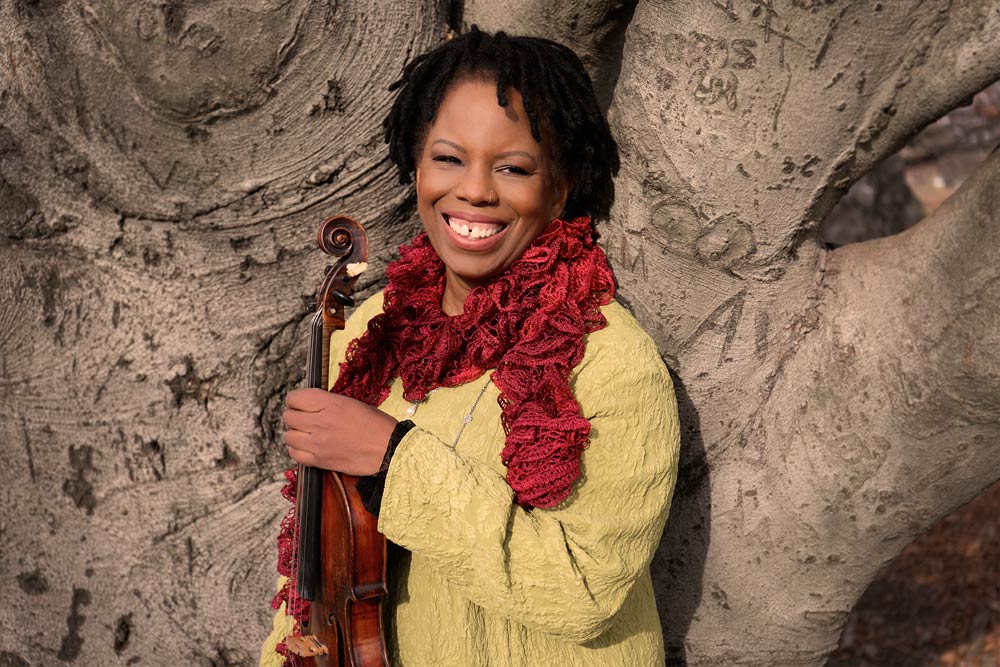 For Black History Month, the gar spot will focus on a handful of the many gifted and talented black women instrumentalist who play jazz.
Regina Carter began studying violin when she was four years old. Initially, she studied the European classical repertoire. And then in high school, Carla Cook, destined to become a jazz vocalist, exposed Ms. Carter to the world of jazz. From her friend, she heard recordings by jazz violin legends Stéphane Grappelli, Neil Pointer, and Jean-Luc Ponty. She also came to know and love the greatness that is Ella Fitzgerald.
Ms. Carter grew up in a very musical household. Her grandmother received a degree in music. And home life exposed her to all sorts of sounds, from Motown to Beatles to show tunes. But she credited her friend Ms. Cook with igniting her inner jazz flame. So when she told her teachers at the Detroit Community Music School, where she had been studying classical violin, that she wanted to get into jazz, they grimaced. But she had one champion.
The school attracted legendary artists to give master classes. As a young girl, she received instruction and inspiration from Itzhak Perlman. As a budding jazz-playing teen, she sat across from Yehudi Menuhin. "She wants to play jazz now," a teacher sniffed. Maestro Menuhin picked up his violin and started playing blues licks. "Leave her alone," he uttered.
While primarily known as a jazz musician, Regina Carter has followed a path similar to her mentors Perlman and Menuhin, taking her to all corners of the music world. Like Perlman, she can play a mean bluegrass fiddle. Like Menuhin, she can touch upon the vast musical realm of the Indian subcontinent. In addition, during her 30+ year career she has played with Billy Joel, Mary J. Blige, Dolly Parton, and the late Aretha Franklin.
However, make no mistake: her jazz credentials are quite formidable. She has played with Max Roach, Eddie Palmieri, and Wynton Marsalis, to name a few. Her albums reflect her broad musical background and training. Improvisational music that some may list as post-bop, to me she is really beyond category. She performs jazz standards, tunes from the Great American Songbook, and original music. And throughout, her playing takes on various personalities, sometimes attacking, sometimes purring, but always blending well with the material.
And she has hardly left behind her classical training. Indeed, in late 2001, as a goodwill gesture after the September 11 attacks, the city of Genoa accorded her one of the highest honors in the violin world. They allowed her to perform with Il Cannone Guarnerius, "The Cannon," created by Giuseppe Antonio Guarneri for Paganini. With this icon of the violin world, known for its deep timbre, she performed and recorded a program of music by Ravel, Debussy, and contemporary Italian composer Ennio Morricone. She was the first jazz musician and first African-American to play this sacred instrument.
Ms. Carter credits her musical development to the Suzuki Method, learning by ear and imitation, and also learning by improvisation. From an early age, she had to improvise variations of tunes when asked by the teacher. She continues to champion this method of musical instruction. She has taught at Oakland University, her alma mater and the jazz summer camp at the Stanford Jazz Workshop.
In 2018, she was named Artistic Director of the New Jersey Performing Arts All-Female Jazz Camp. "It's inspiring to see young girls," she told Northern Express in a recent interview. "It's a male dominated industry. You might be the only girl in the band. But there are a lot of young women forming support groups." No doubt she will help many girls in her new role, just as she was helped when she first started in music.
In 2017, she released an album dedicated to her longtime idol Ella Fitzgerald on the occasion of the 100th anniversary of Ella's birth. One of the guest artists is Carla Cook, bringing it all back full circle.
You can find more about Regina Carter on her website, including upcoming performances and her vast and beautiful collection of albums.
© 2019, gar. All rights reserved.