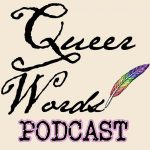 Author Wayne Goodman has hosted singly and with his partner author Rick May various literary readings in the Bay Area. He has now launched a new venture: Queer Words Podcast. Premiering this month, the podcast features Wayne talking with queer writers about their work, their influences, and how their queer identity shapes what they write. He asked me if I would like to participate, and I was happy to say yes.
Here is a link to the episode featuring yours truly. I thoroughly enjoyed our conversation. You can also find Queer Words Podcast on iTunes and Google Play. Check out all of their episodes. The first features Rick and the second features Natasha Dennerstein. Look for new episodes in the coming weeks. Subscribe today!
© 2018, gar. All rights reserved.