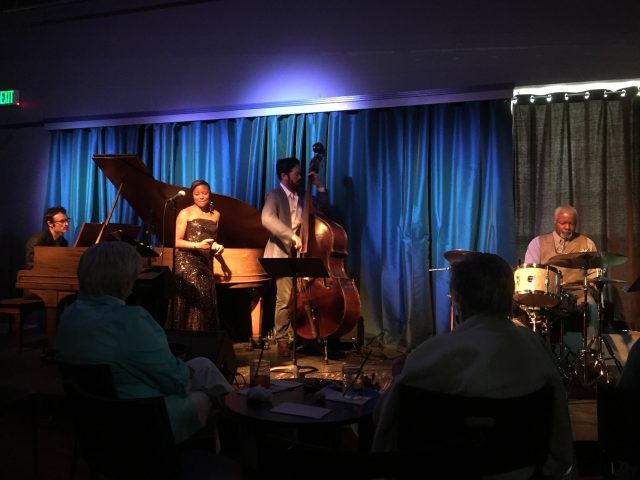 I've heard Bay Area-based singer Tiffany Austin several times. She frequently returns to her alma mater, Berkeley Law, to perform at the commencement day after party. My work often keeps me from hanging out and listening to her and her band perform.
Last weekend, I had the pleasure of hearing her perform in a more natural setting, at the Sound Room in Uptown Oakland. A nice intimate venue, I heard Tiffany perform without interruptions or work distractions. As always, she had a top-notch band accompanying her: Adam Shulman on piano, David Ewell on bass, and Leon Joyce, Jr. on drums. Tiffany had just celebrated a birthday a few days before, and like most musicians, she celebrated by doing what she loves best, getting on stage. What a wonderful present for the audience.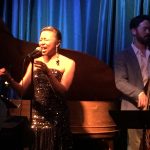 One word characterizes Tiffany's singing and stage persona: ease. She appeared naturally comfortable with the audience, interacting as if in a room with friends. Then she seamlessly slips into performance mode, demonstrating intimacy with the songs she performs, interpreting them with care, and with great control of her voice.
She started with Abbey Lincoln's "The Music is the Magic." It crossed my mind that she sounded a bit like Ella Fitzgerald. She also reminded me of the late, great Minnie Riperton on some of the high notes. The next tune confirmed her Ella state of mind, as she launched into "Night in Tunisia," basing her interpretation to Ella's famous version. The scatting was hot, on point.
Tiffany gave generous space to her band, often leaning on the piano and listening to them do their thing. Each brought their own considerable gifts to the show. Mr. Joyce in particularly presented one hot solo after another on the drums. (I couldn't resist playing "knee tabla" along with him.)
Her Law School performances typically stick to standards, so it was a real treat to hear one of her original compositions. Born from a new relationship that came on the heels of one that ended badly, she sang the appropriately titled "Lost" with freeness in her soul. The lyrics provocatively and joyfully celebrated her ability to fall in love again.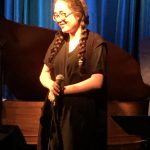 Another surprise came in the form of a very talented protege who she brought on stage. Tai-ge Min studies singing and drums. At age 14, she demonstrated talent at both, singing another Ella transcription, this time for "In A Mellow Tone." Then later in the show, she played drums on "Body and Soul." I particularly admired Tai's scatting, not an easy art form. But like all good scat-singers, she made it look easy.
Tiffany and her band performed a generous set that covered much territory. It made for a very pleasant late Sunday afternoon. Unbroken, her latest album comes out June 1 and then she goes on tour to support it. Stops include Birdland in New York and SF Jazz. Her star is rising, as well it should. I'm happy to have had a chance to see her in so intimate a space as the Sound Room.
© 2018, gar. All rights reserved.