Duke Ellington's Famous Orchestra had many great soloists. Indeed, it was a band of great soloists. But one stood a notch above them all, alto saxophonist Johnny Hodges. Jazz writer Scott Yanow states that Hodges possessed "the most beautiful tone ever heard in jazz." He formed his style early in his career and never varied far from it. Like a fine wine or good whiskey, it just became more smooth and mellow as the years went by.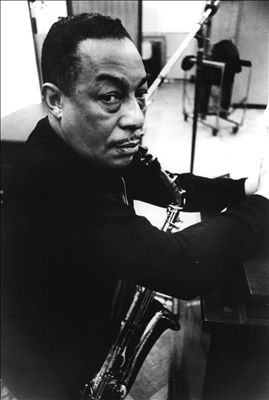 Johnny Hodges was born on July 25,1907, in Cambridge, Massachusetts. He grew up not far from another future Ellingtonian, baritone saxophonist Harry Carney. His mother played piano and he first started on that instrument. As a teen, he took up soprano sax. Early on he met one of his idols, soprano sax legend Sidney Bechet. Though influenced by Bechet, Hodges formed his style on his own. After making a name for himself in the Boston area, he moved in New York, in 1924.
He joined the Ellington Orchestra in 1928. By this point he played both alto and soprano sax, though he would ultimately give up on soprano by the 1940s.
How does one describe Johnny Hodges' playing style? Adjectives include luscious, seductive, salacious, smooth, cool, mellow, hopping, and nonpareil. He has a wide vibrato and distinctive way of gliding between notes. His embouchure is as identifiable as a singer's voice. He's so unique that I can usually tell if it's Hodges playing within a few notes. Though he has many imitators, including tenor sax master Ben Webster, who stated plainly that Hodges was one of his main inspirations.
Duke Ellington famously wrote pieces to highlight the strengths of his musicians. He had a field day with Johnny Hodges. "Prelude to a Kiss," "Never No Lament" (later "Don't Get Around Much Anymore"), and "I Got It Bad (And That Ain't Good)" are but a few of the Ellington works written for Hodges. Duke's son Mercer Ellington contributed the blues stomper "Things Ain't the Way They Used To Be" in 1942.
A first hint of Hodges's distinctive style appears in the 1931 recording "Creole Rhapsody." Starting around 1:54, he solos for a few bars. Note his relaxed delivery as he articulates his phrases, like he's telling a story. His phrasing plays with time, floats over it, never its slave. The line he plays around 2:51 would become his signature, the long, gliding upward note starting just behind the beat, cut off with a short phrase.
One way Ellington kept his cats happy was to give them a chance to lead small band recordings. In these settings, the band leader became just the "piano player." During one such session, Johnny Hodges debuted "Jeep's Blues." "Jeep" was one of his nicknames — the other common one was "Rabbit." If you want to hear a variety of "Jeep's Blues" recordings, listen to Michael Burman on KCSM Jazz 91 at 6:00 Monday mornings when he hosts "A Morning Cup of Jazz." He always starts his program with this blues flag waiver. My favorite version by far is the one from the legendary 1956 performance at the Newport Jazz Festival. Like. Butter.
Composer and arranger Billy Strayhorn joined the Ellington Orchestra in 1939. He had a very close relationship with Hodges and immediately began composing feature pieces for him. One of the first was "Day Dream." Others include "Star-Crossed Lovers," "Isfahan," and "Blood Count." The last, from 1967, was Strayhorn's final composition. Hodges played it as a eulogy for his long time friend and comrade.
Despite the liberty he enjoyed within the band, and the occasion to lead his own sessions, Hodges grew restless to go out on his own. This finally happened in 1951. Big Bands were dying. Tastes were changing. He felt he had a shot at leading a small combo based on R & B. He scored an early success with "Castle Rock," which ironically does not feature his playing. At one point he employed a young John Coltrane, though the future master did not have a lot of solo space in Hodges's group. Ultimately, leading a band proved too difficult. Unlike Ellington, Hodges did not have a warm, ingratiating stage presence. Indeed, he was famous for looking disinterested while blowing out gorgeous melodies. He rejoined the Ellington Orchestra in late 1955, just in time to be part of the Newport Jazz Festival, and Duke's career revival, the following year.
After returning to the fold, Hodges was permitted to take approved "vacations" from the band, sometimes for months at a time, to pursue other work. This included fulfilling his recording contract with Verve Records. Though he often brought on Ellington colleagues to these sessions — Harry Carney, Ben Webster, Ray Nance (trumpet, cornet), Lawrence Brown (trombone) — he also played with others. These included younger musicians just getting started like guitarist Grant Green. And he also formed a close relationship with Hammond B-3 organist Wild Bill Davis. They made several recordings together, including the album Blue Hodges. Wild Bill would later join the Ellington Orchestra in the late 60s.
Though a runner in his youth — possibly the origin of his "Rabbit" nickname — by the late 1960s, Johnny Hodges developed heart problems. Smoking and many long years living on the road no doubt took their toll. Duke Ellington began hiring back up altoists to fill-in as chorus players in case Hodges was too ill to make performances. Though of course no one could replace him as a soloist. (Tenor Norris Turney probably came closest.)
He last toured with the Ellington Orchestra in Europe in the fall of 1969. A couple of the performances recorded in England became the seminal Ellington album The 70th Birthday Concert. Hodges received the spotlight on three tunes and shared the spotlight with Wild Bill Davis on a couple of others. "Black Butterfly" appeared on this tour. A relic from the 1930s, Ellington revamped it and turned it into a showcase for Hodges. Here is a video from their performance of this tune in Berlin. The version that appears on the Birthday Concert CD is among my favorite recordings ever.
Johnny Hodges recorded his final album in early 1970, Three Shades of Blue, made with Leon Thomas and Oliver Nelson. Shortly thereafter, he recorded for the last time with the Ellington Orchestra, The New Orleans Suite. Hodges features prominently on the first track "Blues for New Orleans." Hard swinging, fluid, soulful, it is pure Johnny Hodges. I like the false ending, after which Johnny comes back to blow some more, as if to say "I ain't done just yet!"
He was to perform on the piece "Portrait of Sidney Bechet." Duke Ellington sat in his living room, trying to figure out how to convince Hodges to take his soprano sax out of retirement for the piece when he received a phone call from Cue Hodges, Johnny's wife. The great sax master died while at the dentist's office from a heart attack, May 11, 1970.
Never the world's most highly animated showman or greatest stage personality, but a tone so beautiful it sometimes brought tears to the eyes – this was Johnny Hodges. This is Johnny Hodges.
-from Duke Ellington's Eulogy
Saxophonist Norris Turney composed a piece dedicated to Hodges called "Checkered Hat." It appears on the Togo Brava Suite album from 1971. He does a masterful job of imitating Hodges's distinctive style.
Johnny Hodges was a blues man through and through. Most of his solo work consists of blues, some stompers, some swingers, some more laid-back. But his work on ballads is unparalleled. It can literally bring tears to the eyes. Some shortsighted critics, like Ellington biographer Stanley Dance, have commented that while Hodges played ballads beautifully, that it was unfortunate that he is mainly known for this work. Baseless, machismo rubbish. Dance is the same ninny that thought that Billy Strayhorn's music was too "mawkish."
Fortunately, posterity wins. Such thoughts exist only in dated biographies. They do not live in the minds of those like myself who worship at the alter of Johnny Hodges and revisit his vast library of work again and again.
© 2016 – 2019, gar. All rights reserved.