My earliest Beatles memory: Mom dancing in the kitchen and singing along with "Hello Goodbye." I peered at her through the bars of my crib. I was probably 3 or 4 years old. My parents, my three older brothers, and I (no sister, yet) still lived at my maternal grandmother's house. Having been born a few months before Help was released, I obviously did not live to see much of the Beatles era in person, so I cling to my one memory dating back to that time as a badge of honor. I entered my heavy-duty Beatles phase in high school.
Beatles music has long been fertile ground for jazz artists. Much of their considerable catalogue has become standards. Artists with talent, sensitivity, and a taste for exploration can find new meaning and beauty in these often played, familiar tunes.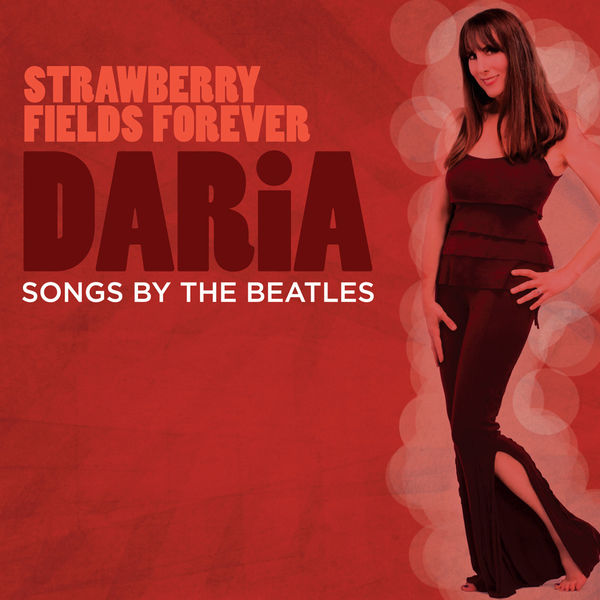 Bay Area based jazz singer Daria is one such artist. Her latest album celebrates the music of John Lennon and Paul McCartney, Strawberry Fields Forever — Songs by the Beatles. To support the album, she has given several CD release concerts. I attended one such performance at The Sound Room in Oakland, on Saturday, June 18, 2016. Performing with her were Jonathan Alford on piano, Dan Feiszli on bass, and Deszon Claiborne on drums. Messrs. Alford and Claiborne also appear on the CD.
The band launched into the title track, "Strawberry Fields Forever," a beautiful, hypnotic interpretation that enhanced the song's existentialism. I also enjoyed their take on "Come Together," which oozed with seduction. Daria's voice molded and shaped the tunes, giving them a personal touch, while remaining recognizable and accessible. Her band amply supported her explorations. I particularly liked bassist Feiszli. Beyond his excellent chops, perhaps I took to him because he played a 5-string electric, like my late brother Robert did.
In addition to her excellent musicianship, Daria has a warm stage presence and playfully teased the audience with Beatles trivia questions. I pleased myself by answering nearly all of them correctly, proving that reading the same Beatles biographies over and over in high school did indeed pay off.
Daria performed several tracks from the CD, including "Fool on the Hill," "If I Fell," and "Fixing a Hole," an underrated McCartney masterpiece in my opinion. In the "Bird" medley, she wove "Blackbird" with "Icarus" by Ralph Towner and the Henderson/Dixon standard "Bye Bye Blackbird." And I enjoyed her playful version of "Drive My Car," which does not appear on the CD.
Another tune not on the CD, but beautifully performed, was "My Valentine." A recent work by Sir Paul McCartney, appearing on his Kisses on the Bottom album from 2012, this piece proves that Sir Paul can still write very movingly. Daria opined that he may have written it with his late wife Linda in mind. Thus, longing and poignant memories informed her performance.
Another performance I really enjoyed was John Lennon's ode to his mother, "Julia." A delicate tune, it received a slight bossa nova tinge, as did a few other songs. By contrast, the band could swing hard. And in fact, Daria invited the audience to snap along with "Helter Skelter."
During my mad Beatles phase in high school, I gravitated towards George Harrison. Even then I liked underdogs, I suppose. Harrisongs, however, do not appear on the CD. But on the CD version of "Strawberry Fields," Daria's husband Joe Cohen plays sitar, perhaps as a nod to George. (Full disclosure: Joe and I are old friends, having both studied tabla with Ustad Zakir Hussain.) I would love to hear her interpretations of "Taxman" or "Here Comes the Sun," or more obscure tunes like "Don't Bother Me," Harrison's first Beatles song. Maybe a follow up CD will explore the Quiet Beatle.
Daria closed the show with the CD's final track, "She's Going Home," an answer to the Beatles' "She's Leaving Home." Its melody reflects late-era Beatles, with just a hint of Wings. And the lyrics speak of wisdom gained after many years of youthful explorations. She's finally going home the long way round.
The CD features guitar, saxes, trumpet, trombone, and the aforementioned sitar on the various tracks. I highly recommend it. But I enjoyed the intimacy of the quartet that performed at the Sound Room, a cozy, relaxed space with good energy. If Daria performs near you, do go check her out.
© 2016, gar. All rights reserved.