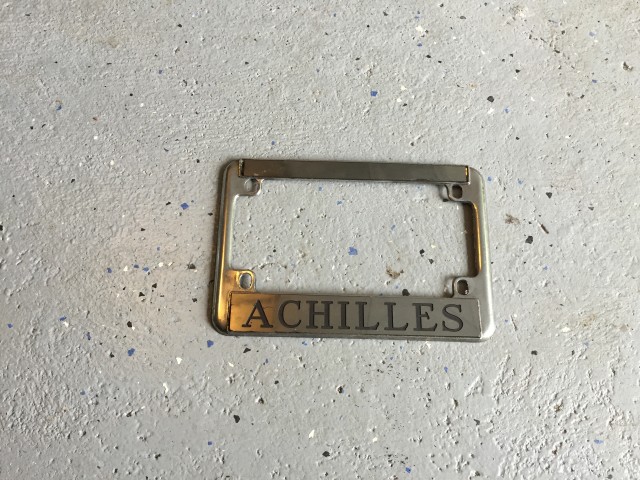 I got my first motorcycle in December 1987. Before then, I had owned two scooters, a Honda Aero 50 followed by a Honda Passport. Neither were freeway legal, but that didn't matter. I navigated the surface streets of LA like a boss. Commuting to UCLA from South-Central had its challenges, but I had various backroad routes that did the job, typically in 30 minutes. Angelenos know how to avoid traffic like that. I took particular pride in my innovative way of driving all the way to Occidental College in Eagle Rock, to go to Indian music recitals.
But by 1987, I felt the strong urge to up my game and get a full-on, freeway legal motorcycle. So I answered an ad in the Recycler, the paper equivalent of Craigslist at that time, for a Kawasaki Spectre 550. The seller took me on a ride to show me how the bike worked. That scared the shit out of me. Not the bike or his driving, but riding as a passenger. I had never done that before, nor would I ever again, but it's a very different experience than controlling the bike yourself. Anyway, the bike was fine, though one of the exhaust pipes had a leak. It made more noise than it should have, but that didn't bother me. I bought it.
The seller lived in Hollywood and I lived in West LA at that time. I had to ride it home. I had a license, of course, but I lacked the skill, having never driven anything with a clutch. The Honda Passport had clutch-less gear shifting, not the same thing. I stalled on the Kawasaki. At every intersection. In the drizzling rain. Fun times.
I named my Aero 50 Andromeda and my Passport Perseus, the hero who rescued Andromeda from a monster, likely me. For some reason, I always knew I would name my first motorcycle Achilles, so that was the name the Kawasaki got. I spent most of the winter break learning how not to stall out of first gear. I lived on a quiet street off Santa Monica Blvd., so that part was easy. It took a bit, but my triumph came New Year's Eve. I had developed enough confidence that I rode all the way to a friend's place for a New Year's Eve party. Can't remember where my friend lived. Mar Vista or Venice or someplace like that, not too far. But I felt majorly triumphant.
I rode Achilles everywhere. My first trip to the Bay Area came in the spring of 1988. On that trip I learned of the biker custom to wave at each other as we passed on the big highway. Kinda cool. I belonged to a tribe now. We dared to expose ourselves to the elements with nothing around us, and only this big motor on wheels underneath our butts. It felt awesome. On occasion, I would meet another rider at a rest area or gas station and we agreed to ride together, staggered side by side on I-5. That was kinda neat. I had always wished that one of my co-riders would turn into an "encounter," but I never had such luck, even with the guy in all leather. I loved his leather outfit. Eventually, I would get one of my own.
In 1989 I moved to Oakland. It took two trips, the first with the moving van and all my stuff, and the second to ride Achilles up. I then made repeat trips to LA on a regular basis. Over the years, we encountered strong winds, dust storms, and on one trip, in 1993, rain. In June. I stopped at a hotel for a few hours, anxiously waiting for the storm to pass. I thought how cool it would be if someone were in the room with me, maybe the guy in leather. Eventually, though, I got underway again, the storm largely passed. Or so I thought. I ran into sleet in the Grapevine. Sleet, in June. What were the odds?
Mechanics always told me that the Kawasaki I owned had an excellent engine. The engine block could stop bullets, two different mechanics told me. But wear and tear took its toll. It was five years old when I bought it, and had 11,000 miles. I added quite a few more than that. So, by Fall of 1993, I was ready for a new bike. Goodbye Spectre 550, hello Vulcan 1500. That thing was a beast, with two very large cylinders. It had torque to spare. I got it pimped out with leather saddlebags, riding pegs, and a windshield.
The name stayed the same. I couldn't bring myself to give up on the name Achilles, so I reasoned that my motorcycle was a time lord like the Doctor from Doctor Who. And like that fictional character, it could regenerate. Each Doctor has a different personality. So it was with the second Achilles. She had power and pick up that the Spectre never had. I rode often in the backroads of Marin, Sonoma, and Mendocino Counties. This bike made short work of all the twists and turns. Sometimes, I strapped my manual typewriter to the back seat, went out, found a quiet spot in the middle of nowhere, and hoped to write something.
The sleet trip in June of 1993 was the last trip to LA I made on the Spectre Achilles. In May 1996, I made my last trip ever to LA a bike during Memorial Day weekend. My mother was ill, dying. It would be the last time I saw her alive. I remember pulling up into the front year on the Vulcan and seeing her sitting in her wheelchair in the front door, waiting for me. That was the only time that ever happened, the beginning of the farewell visit. It was a beautiful trip, though sadness hovered over every moment. We knew my mom didn't have much longer. When I left, I went around the long way to prolong seeing my mom waving at me from the porch. She died less than a month later. I flew to LA after she died, wanting to get down quickly. I kissed the pillar on porch next to where she waved at me each time I visited the house, until my father's death ten years later.
As I said, I never made any trips to LA on Achilles after my mother died. By that point, my now-husband and I had been together for a few years. I didn't want to travel so far with him on back. We took trips in his various four-wheel vehicles. Most of my riding became commuting to work and short trips to Marin or Napa. I still loved the open road, but in smaller doses.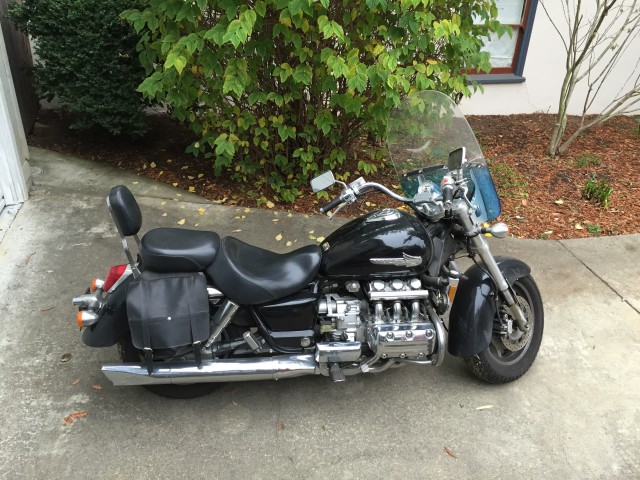 In April 2000, I bought the Honda Valkyrie, the third Achilles. It also had a 1500cc engine, but over six cylinders, not two. A bike meant for the open road, but I rarely took long trips. I didn't want to admit it at the time, but my love of biking was on the wane. In August of that same year, I finally got my car license. See, at the time I got my first motorcycle license in 1984, for the Aero 50, you could get a motorcycle-only license in California. I don't think that's the case anymore. So for years I had this oddball, motorcycle-only license, rather than a standard license with a motorcycle endorsement on it. I don't know why I never got a car license earlier. Just one of those things. I'm a freak, a vegetarian who loved leather and riding bikes.
Had the first Mini Cooper come out a few months earlier in 2000, I could have seen myself getting one. As I said, my love of riding was flagging. I never had any accidents, no broken bones, nothing like that. It was just hard work being an all-the-time biker. I even commuted in the rain, with a full wetsuit and everything. But I remember the moment it all changed. I had my car license and I borrowed my husband's Ford Explorer to go clothes shopping. There I was riding down Highway 13 in Oakland in the rain, the heat on, KCSM playing jazz over the stereo, and I was bone dry with the windshield wipers going. Yeah, I liked it a lot. I had some good times on the Valkyrie, but nothing like my adventures on the Spectre or the Vulcan.
So after 7 years on the Valkyrie, I called it the day and bought my first car, a Honda Civic Hybrid. At least if I was going to "conform" and get four wheels, I could do it as greenly as possible. Actually, the Civic Hybrid got better gas mileage than the Valkyrie or the Vulcan. It certainly had a smaller engine, only 1300 cc. Anyway, after one last ride on Achilles, she sat in the garage. And sat, and sat. Along the way, she stopped running. It's not a fate she deserved, but my interest in riding had vanished completely. If it had been an occasional thing, where I rode just a few times a week, such might have not been the case. But I rode everyday for 23 years, logging in over 100,000 miles over five bikes. Not a shabby record.
Last weekend, I said goodbye to the Valkyrie. I donated it to KCSM Jazz 91 for them to sell and make some money for the station. I thought of trying to fix it up myself and sell it. For a while, back in the day, I could rock the motorcycle mechanics. On the Valkyrie, I even calibrated the carburetors myself. But now I'm badly out of practice and again, not interested. My biking life belongs to the past. Though I still felt a twinge when the hauler took the Valkyrie away. It truly was the end of an era. I hope someone with enthusiasm and zeal buys the Valkyrie, gives it a good name, and takes it on the rides I never did. I always wanted to ride cross-country. Sadly, that adventure never happened.
I kept the license plate frame, pictured above. I had it made when I owned the Vulcan. It's a reminder of the good times, when I rode with strangers on I-5, or out to the lighthouse at Point Reyes in my Doctor Who scarf (safely strapped to the backseat, to avoid Isadora Duncan calamities), or to some quiet spot to write. I had good times on Achilles, all three of them.
© 2015, gar. All rights reserved.