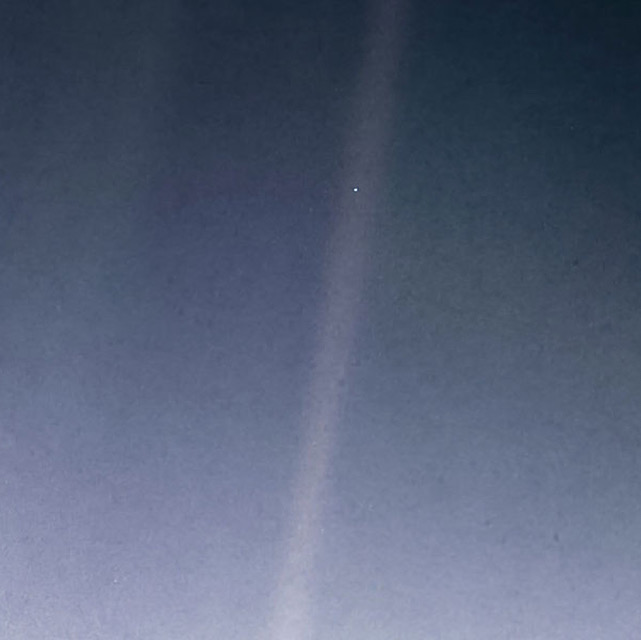 I came up the long escalator from the Underground and found myself on the grey streets of London, home to Doctor Who, The Prisoner, and Monty Python.  I was in heaven.  Late March 2000, just in time for my birthday, saw my partner and me overseas for the first time.  Everything about the trip excited me from beginning, where I had to "translate" for my partner what "take-away" meant when he ordered coffee, to end, where we flew over Greenland on the flight home.
Greenland.  From 30,000 feet up, it was nothing but white enchantment.  Shadows caused by the angle of the sunlight gave away the contours of this forbidden land, but otherwise, all I saw was white, white, white.  Sheets of white ice that looked as if it had never been touched by human feet, hands, or machinery.  I stared out the window the whole time we floated above this amazing landscape, marveling at a piece of earth I had hitherto never seen.  The voyage truly left an impression with me, one of the great highlights of our first trip over the Atlantic.
In October 2002 we took our first trip to Continental Europe, visiting Berlin and Amsterdam.  Given that I hadn't properly studied German since college — and had to rely on my rusty memory and some cramming done months before the trip — I did pretty good with the language.  And in Amsterdam, everyone spoke English.  It was another enchanting voyage for us both.  And again, on the way home, we flew over Greenland.  It remained as pristine as I had remembered it from two years prior.  Once again I enjoyed the view our 30,000-foot vantage point offered.
Our trip to Europe in 2005 did not include views of Greenland, but the one in November 2007 did.  My partner watched the inflight movie while I stared out of the window.  It had been a wonderful trip, capped by visiting an extensive exhibition at the Pinakothek der Moderne museum in Munich of the works of Max Beckmann, my partner's favorite artist.  (Examples of his work can be found here at Artsy.Net.) The exhibition covered Beckmann's paintings while he was in exile in Amsterdam during World War II.  He left his German homeland, never to return again, on the eve before the Nazis opened their Entartete Kunst (Degenerate Art) Exhibit, which featured works by Beckmann and others the fascist regime disapproved of.  As for so many during that time, Beckmann's world had changed for ever.
On that flight I witnessed the change our planet had gone through just since my last viewing of Greenland in 2002.  From our 30,000-foot vantage point I saw the endless sheets of white interrupted by brown rock and grey stone islands.  It took no more than an instant for me to realize what had happened and why there had been a change.  And I wept.
I hadn't realized how reassuring the sea of white had been or what it signified for me.  I just knew that it was changing.  I could see rock where before I saw only endless pristine ice.  I remember wondering, in desperation, if I had in fact seen any rock on the previous flights.  I already knew the answer, but still I searched for any explanation other than the one that caused water to flow freely from my eyes.  Science has never scared me.  I love science.  So the science behind climate change and global warming never seemed foreign or unbelievable to me.  I also remembered my astronomy, which I majored in for two seconds before switching to history.  Venus is the outstanding example in the solar system of a runaway greenhouse effect.  The planet's thick carbon dioxide atmosphere traps the sun's heat, elevating surface temperatures to a toasty 870° F.  It's hotter on Venus than it is on Mercury, the closest planet to the sun, because of this greenhouse effect.  In fact, it's because the earth has a modest greenhouse effect that out planet is as comfortable as it is.  But there is clearly such a thing as too much of a good thing.  Life is nothing if not balance.  The climate change documented by the scientific community demonstrates quite clearly that things are tending towards a dangerous imbalance.
As it happens, there have been recent reports that the ice on Greenland is melting so fast that the big island is actually rising due to the loss of weight from the ice.  So no, sadly, I had imagined nothing on that routine transcontinental flight in 2007.  Greenland had changed.  If anything , I expect the situation now, four years later, is worse.
Politicians continue to dither about in regards to climate change, as the recent conference in Durban, South Africa has demonstrated.  Maybe they need to take more flights over Greenland, the Arctic, or Antarctica.  Maybe they need to compare then and now photos of the Swiss Alps or Kilimanjaro and play the old Sesame Street game "one of these things is not like the other."  Maybe they need their own date with climate change.  I can say that even though I continue with the business of day-to-day living and day-to-day issues great and small, life for me after my date has changed forever.
© 2011 – 2021, gar. All rights reserved.